In our homeschool this week…
first week of 4th grade done! We aren't quite at full-speed - I wanted to ease into things - so we didn't add everything back in quite yet. Next week we'll add a bit more and by our third week we'll be full throttle into 4th grade. Phew!
Here's what we did:
Math
- 3 lessons in RightStart (those magic squares are fun!), some morning math drill, fraction game, and Challenging Word Problems.
Latin
- our first week of Latina Christiana was a hit - TJ really likes the DVD instructor.
French
- we are relaxing a bit with this and focusing on conversational French instead of 'workbook' time so TJ played 'Simon Dit' with Nick one morning while I was prepping lunch and we did a bit of work on translation
History
- one chapter in
Story of the World
Science
- the focus is physics this year so TJ is working through
Physics Experiments with Children
twice a week and reading a section from
The New Way Things Work
each day.
Literature study
- we started our Narnia study - this week we read a bio on C. S. Lewis, flipped through a book about Narnia, and created a Narnia/England timeline.
Extras
- music and geography - we played 10 Days in the Americas while listening to some Vivaldi, our composer for the term.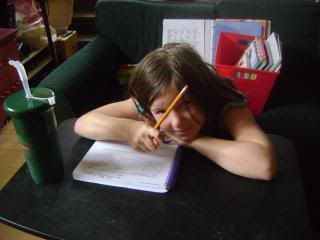 Someone is beginning to dislike having her picture taken...
My favorite thing this week was…
getting back to our regular routine. We had a great summer vacation but I really do like our normal routine.
What's working/not working for us…
so far so good! Talk to me in a few weeks and we'll see what changes we're making!
Things I'm working on…
it's hard to believe that TJ is in 4th grade... and now it's time to read through the logic stage section of
The Well-Trained Mind
. So, I'm looking at history and science and logic and.... oh gosh, 5th grade!?!
I'm reading…
The Stranger
by Albert Camus. I just finished
How to Teach so Kids can Learn
(definitely learned a few things!). TJ is reading
Little Town on the Prairie
,
Meet Kaya
,
The Lion, the Witch, and the Wardrobe
, and
The New Way Things Work
. I'm reading aloud a biography about George Washington and
Pinocchio
.
I'm cooking…
Trim Healthy Mama
style... made some coconut chocolates but they are not coconutty enough... think I'll add some almonds and almond extract next time. Tried to make a cauliflower crust pizza but forgot to grease the parchment so it became more of a pizza casserole by the time I got everything scraped off!
I'm grateful for…
a husband who is involved in our school day.
A photo, video, link, or quote to share…
I'm hosting a giveaway with Knowledge Quest - you could win one copy of their newest release -
A Child's Geography, Volume 3 or their Mega-Giveaway! Check it out!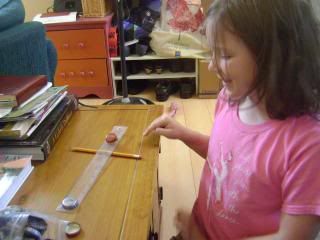 Fulcrums, levers... learning about simple machines!
I'm linking to: