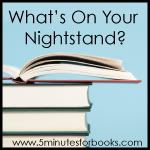 February has been a slow reading month at my house. Last month I finished another book on
The Well-Educated Mind
reading list -
The Portrait of a Lady
. This month I planned to tackle
The Adventures of Huckleberry Finn
but it's been a month of bad colds and lack of sleep at my house so my WEM reading has been on the back burner. So my goal is to finish the novel in March and move on to the next book on the list,
The Red Badge of Courage
, by April.
I'm making fairly good progress with my other reading challenges though I didn't read as much as I usually do:
I finished three more books for the
A-Z Reading Challenge
(reading through an alphabetical list of books) so I've read 7 books for this challenge so far.
B - Blessed Beyond Measure
I - I am Half-Sick of Shadows
W - The Way of the Wise
The second challenge of the year -
Literary Exploration Reading Challenge
. The goal is to read across a variety of genres through the year with three levels of challenge. I chose to read 12 different genres - the "Hard" level. I finished two books this month (with crossover from the other challenges):
Chick-Lit: I've Got Your Number (fun read but a bit heavy handed with the profanity)
Mystery: I am Half-Sick of Shadows
Besides the challenges listed above I also read a few other books this month:
Insurgent - the sequel to Veronica Roth's Divergent
Freefall
Picture Perfect by Janice Thompson
Here's what's coming up for March:
Around the World with Auntie Mame
The Power of Your Words
Flora Thompson: The Story of the 'Lark Rise' Writer
The Unlikely Pilgrimage of Harold Fry